Overview of research topic
3D Integration and wafer-scale diamond process
Developing scalable fabrication and on-chip integration processes for diamond-based quantum technologies. The research encompasses the incorporation of photonic and electronic circuits with spins in diamond and the integration of diamond color centers for realizing a scalable, compact and fast quantum computer.
Check our latest publication: doi.org/10.1109/IEDM19574.2021.9720552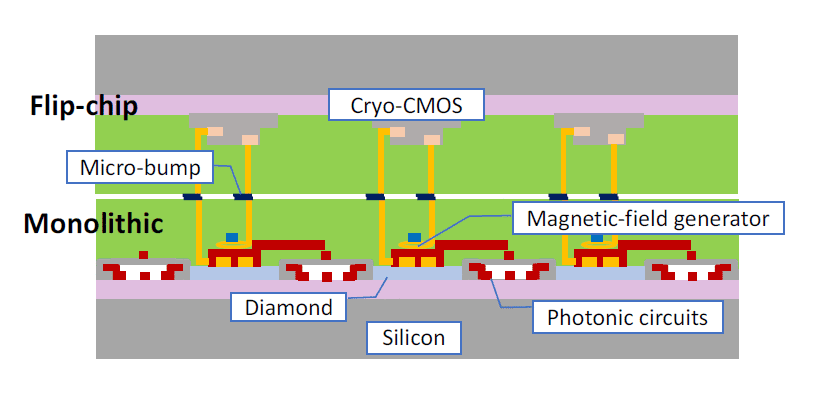 On-chip quantum sensing
This project focuses on the CMOS integration of Nitrogen-Vacancy (NV) centers in diamond, into an on-chip platform. The goal is to create a compact, high sensitivity quantum sensor, utilizing ODMR measurement techniques, for the purpose of magnetic field sensing for bio-imaging applications, at room temperature. By integrating a single-photon detector (SPAD), we will be able to perform even more accurate measurements, further increasing the platform's detection efficiency and sensitivity.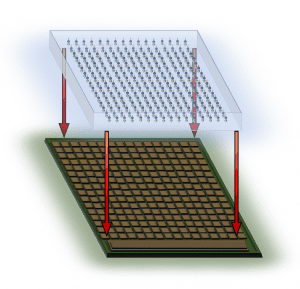 This research aims to successfully bond a (100)-oriented diamond substrate directly to the silicon wafer which will be the basis for generating color centers in diamond for future quantum technologies. Several process parameters will be systematically investigated on a successful direct bonding such as chemical treatment time, deposition techniques, and after-annealing cooling period. Also, parameters such as flatness and roughness are also being investigated.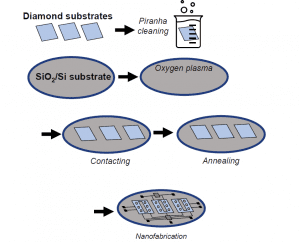 Magnetic field tuning
Color centers in diamond, used as qubits in a quantum computer or network have driving and emission characteristics that are heavily affected by the presence of external magnetic fields. Magnetic field tuning can enable higher entanglement rates and driving/emission multiplexing. Tuning with conventional metal coils, however, increasing power dissipation, which is limited by the cryostation cooling power. Superconducting materials are therefore pursued an ultra-low-power operation.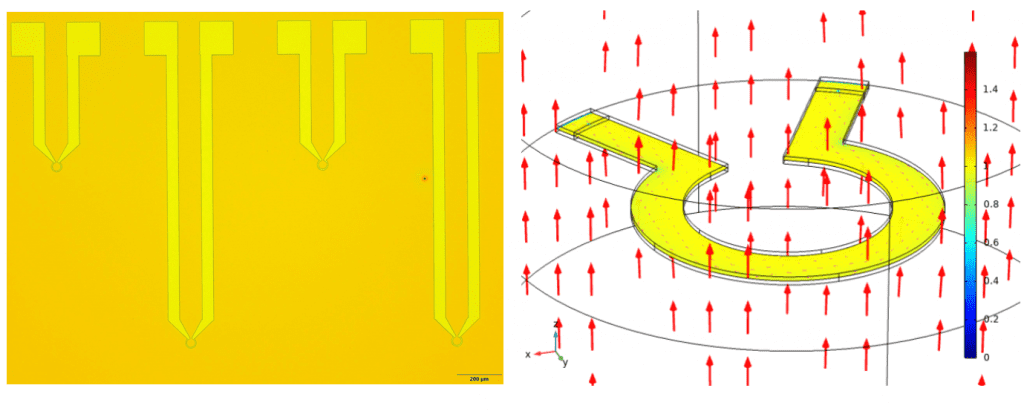 Photonic circuit
Utilizing the color vacancy center for quantum computers requires optical excitation and readout. The group is currently designing and fabricating photonic integrated circuits in the visible wavelength region to control the vacancy center. This includes optical waveguide, optical switch, and variable optical attenuator (VOA). We are now using MEMS technology to achieve a fast, low-loss optical switch with a high extinction ratio for cryogenic environments.