Quantum technologies are complex. So complex, that no single research group or organization can realize the promise of quantum computing alone. Collaboration is essential for innovation, and leaders from academia and industry are looking to work together to realize the promise of quantum computing. In Delft, a new ecosystem of research and companies already emerged around QuTech, one of the leading players in quantum technology. Will you join us in creating the quantum future?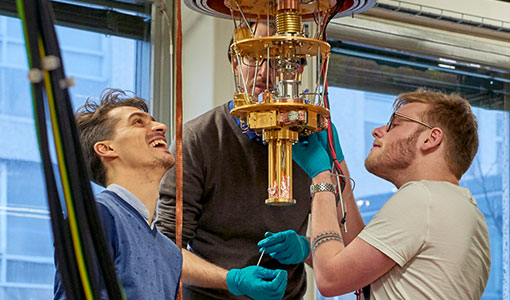 Collaboration and future users
Get in touch
Please get in touch if you would like to partner with us!
Or maybe just want a visit. Together with Quantum for Business, we offer regular two-hour Round Tables for senior management of organisations that are starting their quantum journey. The sessions take place here at QuTech and include presentations by management, discussions and a lab tour. The next Round Table will take place on September 21.
Continue reading for a selection of our (inter)national collaborations.
Academic and Industrial collaborations
QuTech aims to develop scalable prototypes of a quantum computer and an inherently safe quantum internet. We collaborate with industry and academia to deliver on this promise, building the required systems, growing the supply chain, developing new applications, products and services. A few examples and highlights of our collaborations:
Industry collaborations
QuTech and the Fraunhofer Institute for Laser Technology in Aachen are closely cooperating on the development and deployment of complex quantum communication networks across borders and develop integrated photonics solutions for such networks.
QuTech has a long-standing collaboration with Intel, going back to 2015. One of the significant results was the delivery of the first qubit made in the same industrial manufacturing facilities that mass-produce conventional computer chips, in March 2022. In June 2023, both parties decided to continue their collaboration beyond 2025, focusing on cryogenic electrical interfaces for scalable quantum computers.
Fujitsu and QuTech are combining efforts in a running multi-year research project. The aim of the project is to develop the building blocks for a modular quantum computer, based on diamond spin qubits. By joining forces, both parties seek to stay at the forefront of quantum technology. Read more on the QuTech – Fujitsu collaboration.

QuTech,

Eurofiber

and

Juniper Networks

have

launched a Quantum testbed

connecting several datacenter locations in The Netherlands. This testbed enables, amongst other applications of quantum cryptography, a way for partners to explore secure communications based on the fundamental laws of quantum physics.

SURF and QuTech are combining strengths in the LUMI-Q project. Collaborating with consortium partners we will enable a hybrid classical-quantum workflow between the high-performance computers of LUMI and SURF, the quantum computer of LUMI-Q, and the quantum computers in the Quantum Inspire network to provide Europe with a powerful infrastructure to experiment with new hybrid algorithms and workflows that combine the best of supercomputers and quantum computers in one network.

The QCINed project forms the Dutch part of EuroQCI, which will be a secure quantum communication infrastructure spanning the whole EU, allowing for secure communications between member states. In three locations in the Netherlands, the Ministries of Justice and Security, Foreign Affairs and Defense, the Technical University of Eindhoven, Quantum Delta NL, Q*Bird, SURF, RINIS and QuTech are working together on Quantum Key Distribution networks and testbeds, large parts of which are using the QKD technology developed at QuTech and supplied by Delft spin-out Q*Bird.
Dutch and European alliances
As well as a research contributor, QuTech's Quantum Internet Division is the technical coordinator of the Quantum Internet Alliance, a community of forty of Europe's leading academic, industrial and research technology organisations in nine countries, working together to build the world's first full-stack prototype quantum internet network.
Building on our strong position, and with heavy QuTech participation, Quantum Delta NL was launched in 2020 as a dynamic and innovative quantum technology ecosystem, connecting people in the quantum field and beyond, providing opportunities to learn, collaborate, and achieve more together.
Funded by the Dutch National Quantum program, Quantum for Business is a European platform, developed by QuTech, TNO and Cronos, aimed at those businesses that want to take a first step in understanding quantum technology and its adoption in society.
Qutech is a co-organiser and co-host of the Inside Quantum Technology events.
With our demonstrator Quantum Inspire, QuTech is participating in the Quantum Application Lab consortium, helping organisations understand the capabilities and limitations of quantum computing technologies for optimisation, simulation, machine learning, and more.
QuTech is a member of the European Quantum Industry Consortium (QuIC). QuIC's mission is to boost the European quantum-technology industry's competitiveness and economic growth and bolster value creation across the continent. QuIC operates as a collaborative hub of leading researchers, large corporations, investors, and SMEs; a large part of the Delft quantum ecosystem is a member as well.
In the QUADRATURE consortium, QuTech and renowned institutes like the École Polytechnique Fédérale de Lausanne and the universities of Catalunya, Valencia, Dublin, Catania and Siegen, are researching how to develop a scalable quantum computer by connecting multiple individual quantum processors through coherent quantum communication links and cryo-CMOS wireless classical links.
Academic collaborations
In the Quantum Software Consortium, QuSoft, the University of Amsterdam (Centrum Wiskunde & Informatica), Leiden University and QuTech are combining forces to "program the computer of the future". It is funded by the Ministry of Education, Culture and Science through the Dutch Research Council (NWO) as a Gravitation Project.
QuMat – Materials for the Quantum Age – is another Dutch research program under the gravity initiative. It's a collaboration between researchers in Delft, Utrecht, Groningen, Nijmegen, Eindhoven, and Twente, developing proto-type scalable, affordable computer materials that can host robust qubit states, while allowing coherent transport up to room temperature.
End of 2022 and early 2023, scientists from QuTech and Eindhoven University of Technology first demonstrated the existence of an equal-spin electron pairing by using quantum dots defined in a specially grown semiconductor nanowire and created these particles, measuring their properties with great control.
Spin-outs, startups and the Delft Quantum Ecosystem
At QuTech, we believe in an ecosystem's approach and work with companies and spin-outs in our direct surroundings. The newly formed community of quantum-tech research groups and business in Delft formally launched in 2020 as QDNL Delft: a vibrant ecosystem where top-quality scientists, engineers, students and entrepreneurs work together on the frontier of quantum.
Find here some examples of collaborations with spin-outs Q*Bird and Orange Quantum Systems and other companies in the Delft ecosystem:
After operating as an engineering group inside QuTech for three years, Q*Bird launched in 2023. They provide technology for quantum secure networking, upgradable to future connectivity. One example is a new quantum network they are building for the Port of Rotterdam stakeholders to use for their critical communication systems.

Spin-out

Orange Quantum Systems

was launched in 2020. They support R&D labs with custom characterization and calibration software, and develop customized full-stack setups for R&D into quantum computing. In September 2022, they were one of the winners of the first 'Quantum SME call'.

We work with spinoff QBlox on qubit control electronics. In March 2022, QBlox announced it would become the first Dutch company to join the Quantum Economic Development Consortium.
Other examples of pioneering companies that are part of the Delft ecosystem, some of whom find their origins at QuTech, are Quantware, QphoX, and Single Quantum.
Read more about collective progress in our Annual Reports.
Quantum Delft: building an ecosystem for innovation
We believe in an ecosystem's approach and work with companies and spin-outs in our direct surroundings. The newly formed community of quantum-tech research groups and business in Delft formally launched in 2020 as Quantum Delft: a vibrant ecosystem where top-quality scientists, engineers, students and entrepreneurs work together on the frontier of quantum.
Visit the Quantum Delft website for more information.
(Inter)national policies
QuTech is taking a proactive role in the discussions around Dutch and European policies and programs. Together with other Dutch stakeholders (Quantum Delta NL), QuTech identified what is needed to maintain and strengthen the pioneering role of the Netherlands in the field of quantum technology. The outcome, the National Agenda Quantum Technology, was presented to State Secretary Mona Keijzer.
We also teamed up with KPN to realize a Dutch quantum internet testbed. On the European level, 24 EU member states including The Netherlands agreed to work together to explore how to create a quantum communication infrastructure in Europe.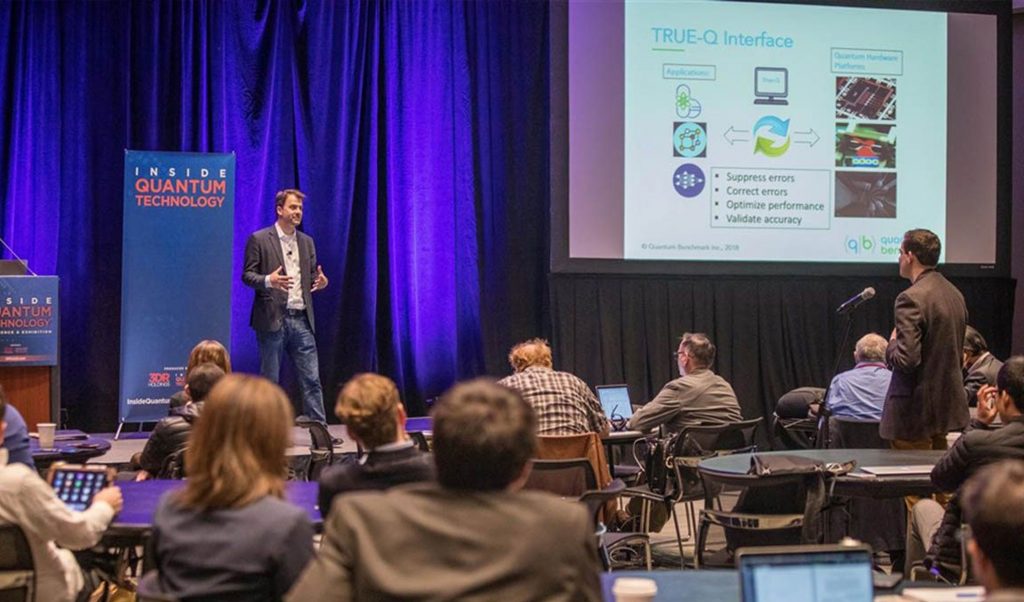 International networks
Strengthening the international quantum community and exchanging ideas is an essential part of our work. We actively participate in many scientific and business-oriented conferences, as speaker, co-organizer or sponsor. For example, QuTech co-organised an exciting new event called Inside Quantum Technology Europe: this event was the first in Europe to focus on business and its connection to research, as quantum technology becomes commercialized.
Technology transfer
QuTech's mission implies a close cooperation between science, engineering, and business. Business development and technology transfer are therefore of growing importance within QuTech.
Read more about it in our Annual Reports.
Please get in touch!
Would you like to join us in creating the quantum future?