About us
Creating the quantum future
At QuTech, we work on a radically new technology with world-changing potential. Our mission: to develop scalable prototypes of a quantum computer and an inherently safe quantum internet, based on the fundamental laws of quantum mechanics.
Quantum technology is among the most far-reaching and challenging technologies of our time. To address this challenge, we bring together scientists, engineers and industry in an inspiring environment. We are jointly creating the quantum future, because we believe that quantum technology can be a game changer in many social and economic sectors, including health, agriculture, climate and safety.
Research & Engineering
Quantum computing and quantum internet
New concepts and the development of different hardware and software layers are all essential for realizing the promise of quantum computing and quantum internet. At QuTech, we work on all layers, including different qubit systems, each with their own advantages and unique potential. Our research and engineering activities are organised along three divisions.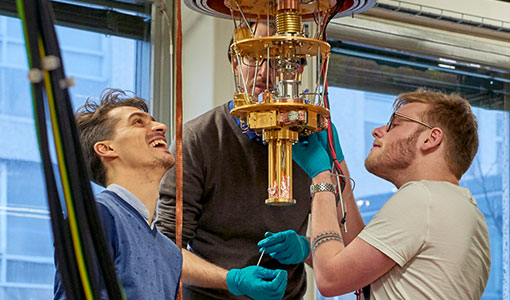 Get a glimpse of QuTech!
Are you curious about QuTech, our labs where we work on the development of quantum internet and quantum computers or our awesome colleagues? Watch this video and get a glimpse of QuTech!
Take a look!
Curious about our labs? Go on a lab tour with Ronald Hanson
Get in touch
Question, invitation or suggestion? Contact us!
Do you have (media) questions, invitations, or ideas to express ideas about outreach? Feel free to reach out!