The Technicians Team at QuTech
The team of all round technicians are responsible for the design, building and maintenance of our quantum research laboratories and for the technical facilities supporting these labs.
Our responsibilities are:
Together with the precision engineers, electronics and cryo engineers, we provide all round technical support to the experimental researchers, engineers and students within QuTech. The aim is to respond flexibly to the ad hoc needs of the various research groups.
We perform (preventive) maintenance on research equipment.
We assemble and modify instruments and equipment in test setups, such as pumps and compressors, but also optical tables or cleanroom infrastructure.
We translate the wishes of researchers into technical specifications, and drawings for lab design and lab infrastructure, together with the colleagues from Campus Real Estate and external suppliers.
We supervise the safety in the labs.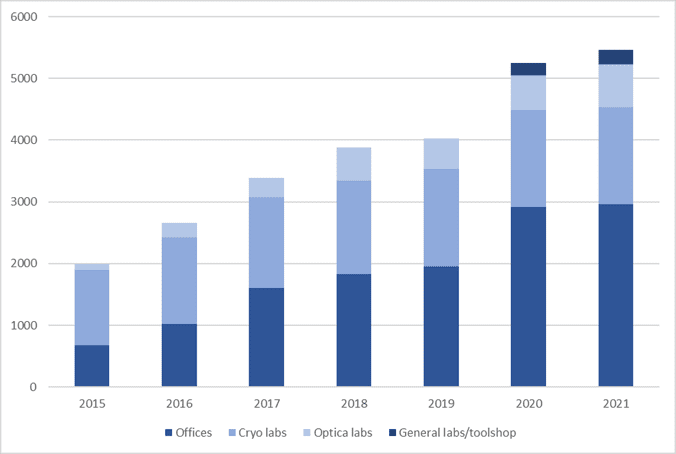 Evolution of the QuTech lab and office space in m2.
Join us in creating the quantum future
Work with us as an employee or partner
Learn more
Engineering expertises
Quantum technology is among the most far-reaching and challenging technologies of our time. To address this challenge, our researchers and engineers from different divisions work closely together to optimize our research projects. Interdisciplinary collaboration is crucial for making the next steps in developing scalable prototypes of a quantum computer and an inherently safe quantum internet.