QuTech, Eurofiber and Juniper Networks partner to deploy a Quantum testbed in The Netherlands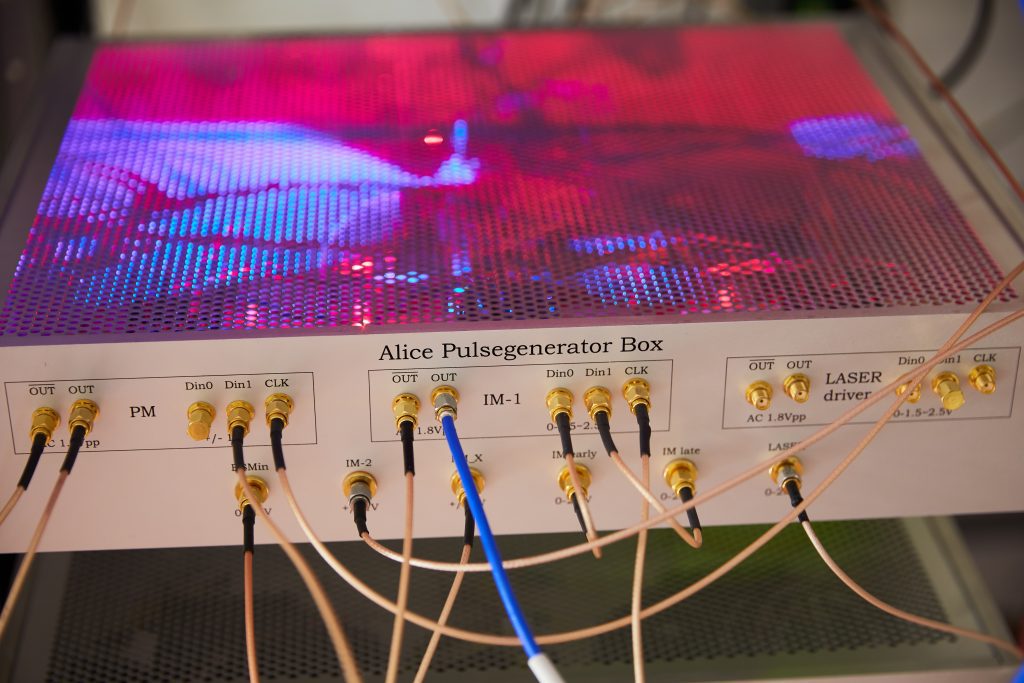 Delft, The Netherlands – QuTech, Eurofiber and Juniper Networks have launched a Quantum testbed connecting several datacenter locations in The Netherlands. This testbed enables, amongst other applications of quantum cryptography, a way for partners to explore secure communications based on the fundamental laws of quantum physics. The testbed is open for new partners to join and co-explore quantum technology's possibilities.
Securing communication with quantum technology
As the number of cyber-crime incidents is increasing, concern has risen fueled by the advent of quantum computing, data that is secured with today's standard cryptography methods are potentially under threat. Quantum Key Distribution (QKD) is a technology that distributes a data encryption key by using quantum effects in such a way that it is more secure against wiretapping attacks. Today and in the future, QKD helps protect data from potential future quantum computer attacks and is believed to play an essential role in securing networks with high-value data, such as critical infrastructure, governmental, police and justice department and financial data.
QuTech—a collaboration between the TU Delft and TNO—is one of the globally leading institutes for quantum technology and has developed the specific MDI-QKD technology on which the testbed is based. MDI-QKD (measurement device-independent QKD) offers a range of advantages in security and cost-efficiency when building larger networks compared to existing point-to-point QKD.
Integrating MDI-QKD
In this program, QuTech partners with leading open digital infrastructure provider Eurofiber, and Juniper Networks, a global leader in AI networking, cloud and connected security solutions. This partnership enables QuTech to help integrate a proof-of-concept MDI-QKD system into a commercial optical fibre network. The MDI-QKD system will be deployed at several Eurofiber locations. With this collaboration, QuTech, Eurofiber and other partners can leverage Juniper Networks routing, switching and security solutions to test new solutions.
Investigating the challenges that arise during installation and operation will also aid the development of a next-generation MDI-QKD system. Collaboration with existing and new partners and potential customers will allow identifying new use cases and systematically investigating integration challenges from the proof-of-concept experiments.
Developing the fundaments for the future digital infrastructure
The project is co-funded by TKI (Topconsortium voor Kennis en Innovatie) High Tech Systems and Materials. The development of this testbed can be seen in a larger context of national efforts to build an ecosystem around quantum networks and connect users, equipment providers and technology providers. MDI-QKD is one of the building blocks for the National Quantum Network, which will be developed and deployed by the Quantum Delta foundation in one of its Catalyst programs. This program aims to lay the foundation for the next generation of digital infrastructure in the Netherlands.
Joshua Slater, quantum scientist engineer QuTech; "This is an important step for us because one of the goals of QuTech is to build and grow the quantum ecosystem. This is a final proof-of-concept before QuTech launches a spin-out to commercialize QKD technology further."
Marc Hulzebos, innovation manager Eurofiber; "For Eurofiber this is a great opportunity to be at the forefront of developments in quantum network technology. We are excited to participate in the project and learn about the benefits of quantum security and quantum connectivity for our data infrastructures, including datacenters. It is our aim to provide the benefits of quantum security and connectivity to our customers as soon as they become available."
Melchior Aelmans, chief architect at Juniper Networks; "We have received interest from our customers about advancements in Quantum technology and QKD, specifically. Our connected security solutions help customers secure every aspect of their networks. Participating in this testbed will provide valuable insights on quantum technology and how we can continue to keep customers protected now and into the future. The testbed offers a unique place to collaborate with partners on new security methods in Europe."
About Eurofiber
Eurofiber is a provider of industry-leading open digital infrastructure in the Netherlands, Belgium, France and Germany. Utilizing our 61,700 km fiberoptic network and eleven datacenters, we empower the digital societies of these countries. We are proud of the fact that thousands of companies, government bodies and non-profit organizations entrust us with their vital infrastructure. We provide them with connectivity and cloud infra solutions tailored to their needs. Our open infrastructure ensures them complete freedom to choose services, applications and providers. For more information, please visit eurofiber.com.
About QuTech
QuTech is a mission-driven research institute of Delft University of Technology (TU Delft) and the Netherlands Organisation for Applied Scientific Research (TNO). Together, we work on a radically new technology with world-changing potential. Our mission: to develop scalable prototypes of a quantum computer and an inherently safe quantum internet, based on the fundamental laws of quantum mechanics. More information is available at www.qutech.nl and Quantum Cryptography Lab – QuTech.
In the media