Today, NWO announced that Ronald Hanson is one of this year's winners of the NWO Spinoza Prize. The Spinoza Prize is the highest award in Dutch Science. Each laureate will receive 2.5 million euros, which they can spend on scientific research and activities related to knowledge utilisation.
Fascination
Ronald Hanson (born 1976), Professor of Quantum Physics at TU Delft and scientific director of QuTech, is a world leader in the area of quantum networks.
Hanson is fascinated by an exceptional phenomenon known as entanglement, in which two entangled particles behave as one, even when separated by a large distance. This entanglement is an important condition for the functioning of future quantum communication, quantum cryptography and quantum computers.
Unhackable
Hanson conducted several sensational experiments that have brought a future unhackable quantum internet a step closer. Among other things, his approach led to a groundbreaking experiment in which he was able to entangle particles over a kilometre apart and could teleport information from one particle to the other.
'A physical phenomenon only becomes tangible when you see it happen with your own eyes. And the fascinating thing about our times is that we can actually observe it. For a long time, we were limited to passive observation of the effects of quantum mechanics, but we are now able to actively determine what happens. This means that we cannot only perform fundamental experiments that were impossible previously, but we can also explore practical applications.'
QuTech
Hanson obtained his MSc in Applied Physics at the University of Groningen in 1999 and his PhD at TU Delft in 2005. During the last ten years he has played a significant role in boosting quantum science; he was also one of the founding members of QuTech.
Hanson, who has already received several prestigious awards for his work, has the ability to identify successful research fields, to motivate people to get involved, and to generate funding. He has put his name to more than 75 publications, 13 of which are in Nature and Science. Moreover, as an authority in the field of quantum science he is a frequently asked speaker or expert, both for scientific purposes and for a wider public.
Read more about Ronald Hanson's research
This year's NWO Spinoza Prize and Stevin Prize awards ceremony will take place on Wednesday 2 October in the Koninklijke Schouwburg in The Hague. In addition to Ronald Hanson, this year's Spinoza Prize winners include Bas van Bavel, Yvette van Kooyk and Amina Helmi. TU Delft colleague Jack Pronk and Andrea Evers have been awarded an NWO Stevin Prize.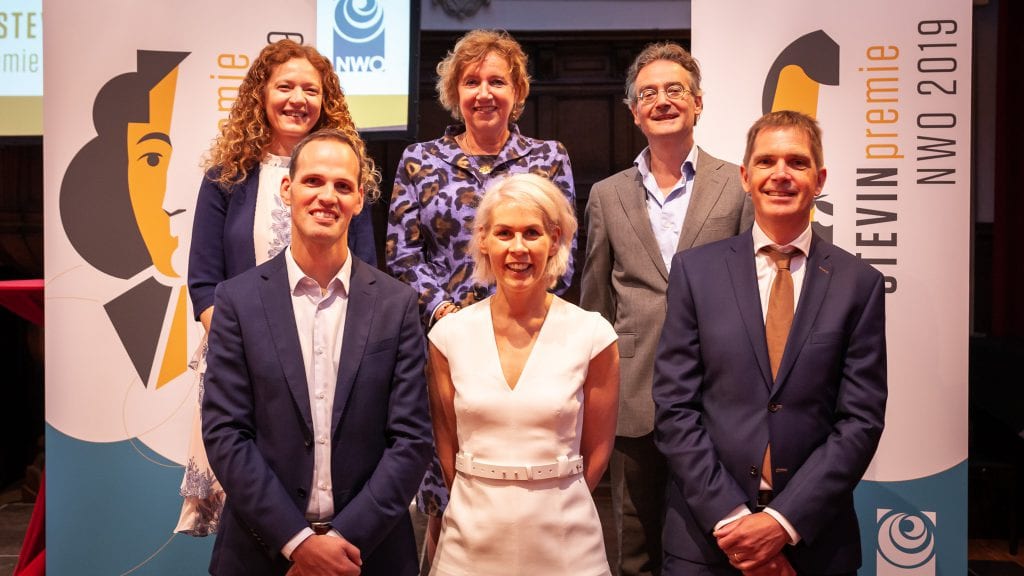 Bron NWO, fotografie Melvin tas