QuTech and Fujitsu announce their new research collaboration on Quantum Computing Technology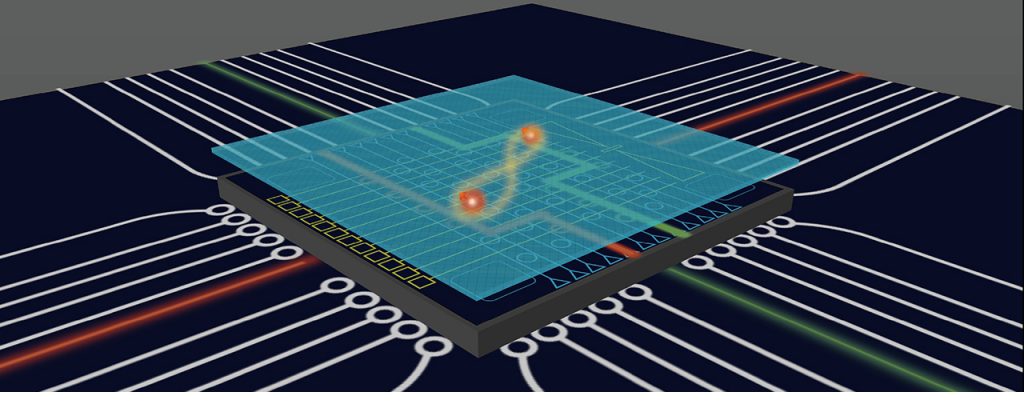 QuTech and Fujitsu announce their new research collaboration on Quantum Computing Technology
THE NETHERLANDS, 13 OCTOBER 2020 – QuTech (a collaboration between TU Delft and TNO) and Fujitsu signed a collaboration agreement to combine efforts in a multi-year research project. The aim of the project is to develop the building blocks for a modular quantum computer based on diamond spin qubits. By joining forces, both parties seek to stay at the forefront of quantum technology.
Modular quantum computers
Quantum computers have the potential to revolutionize many sectors, for example in the field of drug development. By performing calculations using the fundamental laws of quantum mechanics, quantum computers have the ability to solve certain problems much faster than 'classical' computers. The reason for this increase in speed is the fact that quantum computers use different building blocks, called qubits, while classical computers work with ordinary bits. Many different approaches exist for the realization of qubits, one of which is the use of spins in diamond. Diamond-spin qubits offer several advantages. For example, because they can be linked together via optical channels, they enable large quantum processors to be constructed by connecting many independent modules.
Collaboration
By bringing together QuTech's expertise in diamond spin qubits and Fujitsu's expertise in classical computer technology, both parties hope to accelerate the development of modular quantum computers. Tim Taminiau, Group Leader at QuTech and the Kavli Institute of Nanoscience: "This collaboration allows us to speed up our research on modular quantum computers with diamond-spin qubits, and keep us at the forefront of this important technology. Fujitsu's expertise in classical computer technology will greatly contribute to our joint effort." Ryoichi Ishihara of QuTech and the Faculty of Electrical Engineering, Mathematics and Computer Science: "I am excited by the opportunities created by this project and look forward to the collaboration with this esteemed partner."
The CEO at Fujitsu Laboratories, Hirotaka Hara, is looking forward to the positive impact the collaboration will have on Fujitsu's computing technology, with regard to solving societal problems: "We are very pleased to collaborate with QuTech, a leader in the field of qubits for quantum computers with advanced knowledge and innovative technology, for developing revolutionary computing technology. We anticipate that this collaboration will help Fujitsu leverage its computing technology to solve challenging issues confronting society."
Commercialization of quantum technology
By yielding new insights and techniques, the research project is also an important step towards advancing the commercialization of quantum technology. QuTech's Director of Business Development, Kees Eijkel: "This collaboration will enable us to further build our technology base, as well as our future opportunities to commercialize the technology. It therefore contributes directly to our mission to create an economic footprint in the Netherlands."
————————————————————————————————————
About QuTech
At QuTech, we work on a radically new technology with world-changing potential. Our mission: to develop scalable prototypes of a quantum computer and an inherently safe quantum internet, based on the fundamental laws of quantum mechanics. To achieve these ambitious goals, we bring together scientists, engineers and industry in an inspiring environment. We are jointly creating the quantum future, because we believe that quantum technology can be a game changer in many social and economic sectors, including health, agriculture, climate, and safety.
QuTech (www.qutech.nl) is a mission-driven research institute of Delft University of Technology (TU Delft) and the Netherlands Organisation for Applied Scientific Research (TNO).
Contact
For more information you can contact:
Tim Taminiau, Group Leader Qutech, T.H.Taminiau@tudelft.nl
Kees Eijkel, Director of Business Development, C.J.M.Eijkel@tudelft.nl
Image credits
Ryoichi Ishihara, Associate Professor Faculty of EEMCS and QuTech