What is the essence of quantum mechanics? How do quantum calculations work? From Wednesday 8 November, the foyer of TU Delft's Aula Building will give visitors the chance to make their foray into the technology of tomorrow. For one week, a pop-up quantum exhibition will have pride of place in the hall. The Institute for Quantum Computing in Canada developed the interactive exhibition and made it available to QuTech for the quantum/nano revolution route of the Dutch National Research Agenda. The exhibition will be running for a whole week, during which time everyone is welcome to visit.
The exhibition was opened by Tim van der Hagen (President of the Executive Board of TU Delft) and Sabine Eva Nolke (Canada's Ambassador to the Kingdom of the Netherlands). The grand opening forms part of the kick-off day for the Dutch National Research Agenda's quantum/nano revolution route. Hundreds of researchers from the Dutch scientific sector will be coming together today to discuss the projects which have received incentive funding from the Dutch National Research Agenda as well as plans for the future.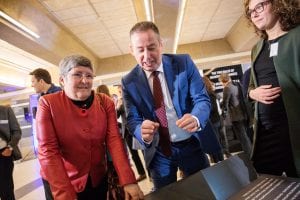 The Dutch National Research Agenda's incentive funding, totalling 2.5 million euros, stimulates three promising topics in which the Netherlands has a strong position: the development of new medicines and biomolecules using nanotechnology and quantum computers (nanomedicine), energy-efficient data processing inspired by the brain (green ICT), and quantum computing and secure communication on the quantum internet. The route also focuses on the understanding and acceptance of new technologies in society.
Academic standard-bearers for this route are Dave Blank (University of Twente), Marileen Dogterom (TU Delft), Carlo Beenakker (Leiden University) and Leo Kouwenhoven (Microsoft/QuTech). Freeke Heijman, the driving force behind the event organisation: 'This event couldn't have been launched at a better time. The new Cabinet has just announced that it will provide extra funding for research and innovation, including the Dutch National Research Agenda and quantum and nanotechnology. Today, researchers from across the country can present their ideas for new projects.'
The quantum exhibition is a pop-up version of the larger Quantum Exhibit, developed by IQC in Waterloo, Canada. TU Delft signed a partnership agreement with this university during the State visit in 2015. QuTech brought this exhibition to the Netherlands to increase the visibility and tangibility of the quantum revolution. Julia Cramer, QuTech outreach coordinator: 'We are proud that this exhibition has been given such a great platform in TU Delft's Aula Building, and hope that we will be able to bring the complete Quantum Exhibit to the Netherlands in the future. Everyone is welcome to come take a look round and experiment.'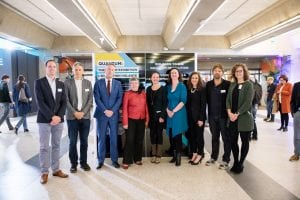 The pop-up exhibition is open every working day from Wednesday 8 November (13:00) to Thursday 16 November (16:00) in the Aula Building at TU Delft.